Olde Park, Mount Pleasant, SC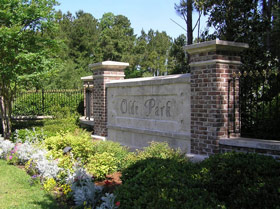 One of Mount Pleasant's stateliest neighborhoods, Olde Park, neighbors the I'On community on Mathis Ferry Road. Venture through the entrance of Olde Park and you'll see the neighbors enjoying themselves outdoors on the sunny days or perhaps relaxing indoors by the glow of lamplight on the rainy or chilly days.
Olde Park provides a lifestyle that is largely unparalleled in East Cooper. Homes are often greater than 4,000 square feet in Olde Park, yet the community feeling is undeniable when newcomers to the watch how children play on the sidewalks and young mothers and father stroll beneath oak trees decked out in Spanish moss. The center of the neighborhood is a sparkling lake flanked by a charming gazebo, perfect for daydreaming and enjoying fresh air.
You might say that part of Olde Park's appeal is its tranquility and tendency to stay "off the radar" of Mount Pleasant's more populated areas. But don't be fooled – Olde Park is convenient to many of Mount Pleasant and her surrounding island's cherished features, including independent businesses, exceptional educational facilities, plus gorgeous beaches.