Belle Hall Shopping Center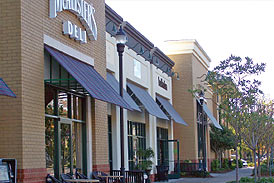 Just a bit newer than Towne Center, Belle Hall Shopping Center has become a main attraction where Long Point Road meets Interstate 526. Voted one of the best places to shop in Mount Pleasant Magazine's Best of Mount Pleasant you'll find stores like Harris Teeter, PetSmart and Starbucks. Belle Hall includes a variety of local and national shops offering eye care, dentistry and financial planning services co-existing with boutiques such as Mainstream Boutique, Erika Lynn Boutique and The Coastal Cupboard. You'll also find jewelry stores, shoe shops, menswear and the all-important grocery store.
Even at night, Towne Centre is a popular destination as friends get together for a movie, a bite to eat at one of the many restaurants or to get in a little shopping before the shops close. Night owls enjoy the fact that Barnes & Noble is open until 11 p.m.
As with Towne Centre, it's not all about shopping at Belle Hall. When it is time to eat, Belle Hall offers an eclectic variety of dining experiences, including Dog & Duck pub, Amalfi's Italian Restaurant & Pizzeria, Wendy's, McAlister's Deli and Another Broken Egg. Personal care is important, too, and you'll find salons, from budget to upscale, as well as a spa to pamper yourself, Urban Nirvana. To get your exercise routine moving and help keep you in shape Fitness Now, and Crunch Mount Pleasant and there's even The Little Gym of Charleston-Mt. Pleasant for kids.
Similar in style to Towne Centre, Belle Hall is an open-air mall with trees and walkways.
---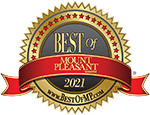 Voted one of the Best Places to Shop in Mount Pleasant