Lavender Hill Designs: A Living Postcard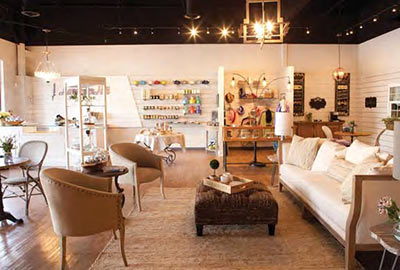 "They say 'Start with what you know and what you are passionate about,'" explained Tracey Wonnacott, who recently opened Charleston's newest European décor and gift store, Lavender Hill Designs.
What Wonnacott is most passionate about is traveling around Europe, combined with her love of shopping and decorating. She is working with her longtime best friend, Beth Hoehne, a former designer for Ethan Allen.
Wonnacott is an avid traveler whose children have lived in Scotland, England and Russia. She has racked up thousands of hours in transit across Western Europe, and, because she's watched acres of lavender hills roll by, the namesake of her new store is personal.
"When I told my daughter the name of the store, she laughed and asked, 'because of riding on the bus?'" said Wonnacott, pointing out that Lavender Hill was an oft-traveled London bus route for the mother/ daughter pair. "It's the road that runs from where my daughter lived in Wandsworth to Battersea, where my mother was born and raised."
Lavender Hill Designs is not just another home décor and gift store. It is a living postcard where guests are invited to experience world travel without the TSA.
"Our European merchandise blends wonderfully with the style of many of Charleston's most beautiful coastal homes. We like to say Lavender Hill is where European chic meets Southern style," said Hoehne.
Inside the Mount Pleasant store, which opened just before Christmas, bistro tables are set with modern French and Portuguese china. Orb-like vases hold dainty purple sprigs of lavender. Pinterest-worthy bar tools gleam from light wood displays. The shop is a vision in colorful handblown glass, bold and bright china and delicate cashmere, lit by the glow of industrial-sized Edison bulbs repurposed into an innovative chandelier.
"What's very popular now in France is sleek and modern as well as the French Farmhouse style, which is a new twist on the traditional French Country and marries the modern with the antiques. You walk into a centuries old building and the inside is completely different than one might expect," Wonnacott said.
Many pieces at Lavender Hill are handpicked finds from Wonnacott's and Hoehne's travels. Twice a year they visit France's Maison Objet design show in search of distinctive items, such as beautiful scarves from a Parisian designer, that are nearly impossible to find anywhere else in Charleston.
"We traveled to Biot for hand-blown glass and then to Provence for art, linens and vintage pieces. Some of the things we bring back are one-of-a-kind finds, and other items we will be able to restock as needed. Our goal is to keep things fresh and exciting," Wonnacott said.
Like the best vacations, the goods at Lavender Hills Designs have to be experienced to be understood. The cashmere wraps that were a customer favorite this winter redefine the term heavenly. The delicacy of French glass is best understood by touch, and, as Wonnacott put it, European linens "wash up like a dream."
Lavender Hill Designs might be your best chance to step inside a Parisian home. Sitting at a wood-topped bistro table stroking the delicate stem of a pinot noir glass, you can feel that je ne sais quoi – without the jet lag.
To learn more, visit www.lavenderhilldesigns.com or call 843-352-7042.